GEOiD
Build around three parts GEOiD full version includes the Measuring window to take-off quantities, the Report window to sort, filter and totalise and the Presentation window to compose a thematic chard by a press of a button. Discover yourself? Try it for free.
GEOiD-SBV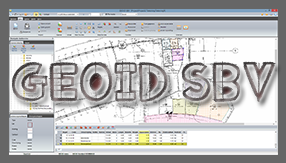 GEOiD-SBV will suite the less demanding user. The Small Business Version lacks the report and presentation window. The measuring status can be stored as Excel file.
GEOiD-Viewer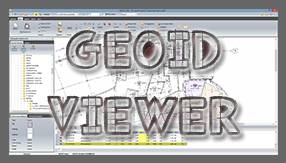 GEOiD-Viewer is our free of charge software to view GEOiD projects as well as PDF, DXF, DWF and other digital drawings. Ideal to get a birds eye view on quantities during a meeting or at the construction site. Try it yourself.
GEOiD in the Cloud
Install GEOiD software on a server based platform like MS Windows Server or Citrix, regardless whether the server is located in your office or in the Cloud.
Works for you too
Use your mouse to quickly take-off quantities. You can speed up work even more by using the user definable GEOiD-Menu. Reuse previous measurements or activate a filter to see if nothing has been forgotten.
License Forms
GEOiD has 2 different License Forms. PCL is a licentie for 1 single PC or laptop. COL-Server is a flexible license method that may contain more than 1 license allowing you to use GEOiD by turn or simultaneously depending on the number of licenses.
Main screen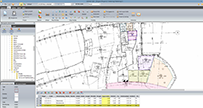 In the main screen you open the drawing to take-off quantities. Measuring is started immediately after checking the scale. You may activate a filter or customize colours of the imported drawing.
Report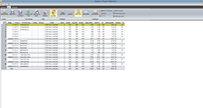 The Report displays totals and subtotals on one or more drawings with or without a filter activated. Results can be exported to MS Excel, any cost-estimation software or saved as Excel file including formulas.
Presentation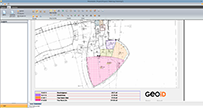 Present your drawings including filtered quantities as thematic chard. Great for on-site viewing or during a meeting as a birds eye view for your (sub)contractor or principal if you do not have a PC at your disposal.
GEOiD-Menu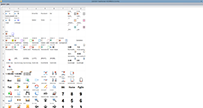 GEOiD-Menu is the bespoke tool to execute multiple actions simultaneously such as activating the required measuring function, selection of the correct cost-estimation code, line and hatch colour. You may also include memory fields for example wall height or recesses.
GEOiD and tablet (PC)
Digital but with a paper like feel? GEOiD works perfectly with like the Cintiq series from Wacom. A big screen with a stylus, giving you the feeling of paper oriented take-offs but with all it's digital advantages. The tablet PC not only offers you lots of comfort but also speeds up the take-off process.
Dynamic link
GEOiD Dynamic link features a so called bi-directional data exchange that enables input on one spot to be transferred automatically to linked locations in other software. Since GEOiD graphical presentation is linked with its measuring status, each change in other linked software is automatically visualised graphically.
Do you use the full GEOiD version in conjunction with MS Excel? Than we develop a cost free dynamic linkage for you!